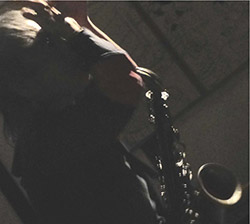 "When I decided to play music, I had to bring my body along with me...I want to give flesh to my sounds, or maybe it would be better to say that I want my sounds to originate from my flesh."

"...I want my saxophone to sound like the vocals of Lou Reed and Billie Holiday..."

"...I don't care about any of my releases if anyone ever hears them. I care nothing about them..."
I did quite a bit of research before sitting down to write about Urabe's live recording from Sakedelic Space in August of 2017. These few brief statements were all I could find coming directly from the man himself, all else amounted to descriptions of his playing. Often compared to Japan's other harrowing, insistent solo performer Kaoru Abe, the pair do show similarities in "style" as well as instruments deployed (sax, harmonica, sometimes guitar), but their performance modus differs greatly. Where Abe tended to stand still and squeeze out rusty blasts of music shards, Urabe places strangled blasts and short, melodic fragments into a framework of near silence. Long stretches of it.
My first exposure to Urabe's playing was on the duo recording "Dual Anarchism" with vocalist and cellist Che Mukai. There his outbursts are placed within a cocoon of otherness and perhaps sound a bit more "conventional". Here we are provided only with Urabe's sparse but intense sax, harmonica and chains (!), with the added occasional vocal interjection. It's puzzling at first, but sink in and you'll soon be taken on a harrowing ride. What we don't get with this recording is the sight of Urabe's Butoh cum Sumo dance, striking odd poses and seemingly steeling himself in preparation for his next heart-testing utterance. If it's true that no recording can ever replicate the experience of a live performance, here is proof positive. Consider this then a postcard from the subtle realm where complete commitment meets shades of madness in a near silent space. A small whirlwind in a box.
(For a taste of the visual aspects of Urabe's playing, a number of videos can be found on YouTube. The duet with Che Mukai is jaw-droppingly life-altering.)
Comments and Feedback: