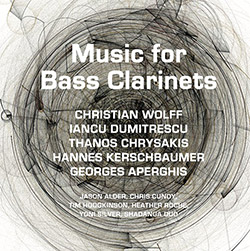 This recording documents a concert held at Café OTO in London, in December 2017. The title is oddly misleading as only three of the six compositions use bass clarinets, the remaining three including one for solo clarinet and a pair for alto clarinet and alto flute.
The first track is Christian Wolff's "Isn't This a Time", a 1982 work scored for "(any) sax or possibly other reed, solo or multiple". Here, it's performed by five bass clarinets (Jason Adler, Chris Cundy, Heather Roche, Yoni Silver and Tim Hodgkinson). It's a fabulous piece, expertly played, showcasing Wolff's amazing ability to compose music that seems transparent on the surface but resolutely defies easy analysis. It's slippery. Bass clarinets lend themselves to this approach, their lush, liquid, deep sonorities gliding through the score like fish. Iancu Dumitrescu's "Nuclear Aura" (2009) is played on solo clarinet by Hodgkinson; a good deal of the action does indeed take place in the instrument's lower registers, juxtaposing longish lines, gnarled and bumpy, with briefer squeaks, overtones and chittering. It's an effective and often moving work, reminding this listener, oddly, of the kind of improvisation one might have heard from Anthony Braxton in the 70s. "Γνώμων/Gnomon" (2016), by Thanos Chrysakis, is for bass clarinet quartet (the above group minus Roche). A dark, moody work, the reeds intertwine loosely with stutters to accentuate shifts. There's perhaps even more of a jazz or bluesy feel here, though not overt, recalling some of Julius Hemphill's more abstract compositions, including some eerily beautiful, slightly guttural harmonies towards its conclusion. Impressive piece.
The Shadanga Duo (Adler, alto clarinet; Katalin Szanyi, alto flute) perform "gryet.debris" (2014) by Hannes Kerschbaumer, a work that begins astringently with thin, dry tones, then gradually blooms into small flurries of activity and, later, intriguing silences. On Georges Aperghis' "Simulacre IV" (1995) we hear Yoni Silver playing solo bass clarinet. It's an aggressive work, the reed rudely poking around the sound field, snorting, grumbling, belching, but always with a quizzical, slightly humorous aspect, an approach that might remind some of the late Willem Breuker. Finally, the Shadanga Duo returns with another work by Chrysakis, "Entwined Equinox" (2016), a sometimes delicate, sometimes rambunctious but always delightful piece that suggests a kind of vegetal complexity, living up to its title's evocation of twining vines and tendrils, sending off a series of fascinating and complex harmonic sprouts. Along with the Wolff, it was a highlight for this listener, though the entire set is strong and well worth hearing.
Comments and Feedback: