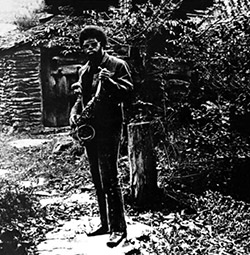 The recording as time machine is a wonderful thing, especially when it sends us to places like Vassar College in upstate New York's Poughkeepsie in 1971 to hear multi-instrumentalist Joe McPhee in concert with pianist Mike Kull, bassist-trumpeter Tyrone Crabb and percussionists Bruce Thompson and Ernest Bostic in extended pieces celebrating the energy of revolution that seemed in the air at the time of rising Black Power, and the waves of energy of the Youth Movement that announced huge possibilities of social change.
The sense of enormous potential permeates this album, with its music that packs the punch of anger-energy but also the bubbling over of the celebration of "Nation Time," a phrase, attributed to Amiri Baraka, which McPhee chanted to begin the concert, announcing the desire for people to get together and celebrate identity and to raise the flag of affirmation of the human spirit...never a bad thing. From the ashes of the old, new life might arise.
And arise it does in the three incredibly fiery originally released pieces, albeit not all of equal quality in terms of sound capture due to the imbalance in stage mic-ing in spots. Nonetheless, the energy on this live date is anything if not exciting and offers the effect of a salve for the soul in troubled, atomized times such as ours. In this reissue of a 1971 CjR release, along with the original three tracks ("Nation Time", "Shakey Jake" and "Scorpio's Dance), we get three additional, previously unreleased tracks: a collectively improvised "Blues in C," "Naima" and "Secret Love," all from the same event recorded on December 12 and 13 in 1970 at Vassar College's Urban Center for Black Studies.
McPhee's getting the audience to chant "It's Nation Time" in answer to his question "What time is it?" sparks the fireworks of this set of funky, free and uplifting music. The title track is indicative of the kind of power of the music, a forceful, soulful, funky, celebration of a kind of Afro-centrism that is both culture-specific and universal in its call to solidarity. The funky jam of "Shakey Jake" is equally infectious and uplifting and includes the participation of Otis Greene on alto sax, Herbie Lehman on organ and Dave Jones on electric guitar. This is a slice of funkified, hip-swaying and fist-pumping spontaneous anthem material.
Listeners wanting McPhee's trade mark adventurous musical tightrope walking will not be disappointed, especially in the beautiful "Scorpio Dance" with its clear trumpet line which is then deconstructed into smears and growls and all kind of wise expressions of the spirit that animate this session. The three new tunes significantly enlarge the experience of the original landmark album and are equally well worth the listen.
Comments and Feedback: