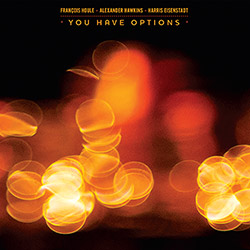 Clarinet, piano, drums. Played idiomatically.
Now that I have lost your attention, let me say that this album proves that music structured along these lines can still sound beautiful and absolutely fresh.
You Have Options is not a live album, but it would be at home in a smoke-filled lounge wherein the only interruptions were the clank of glasses, the creak of an entry door, or the other ambient noise produced by the attendees. In other words, it is elegant, intimate, and discreetly dynamic. Songs build incrementally. Although melodies emerge, float, then disappear, the focus remains on the process and the construction of a sparse and balanced three-person dialogue. The third track, the aptly titled "Run Riot," is the first driven by energy, rather than balladic tension. Here, Houle's ebullient runs ride atop Hawkins and Eisenstadt's spirited but disjointed rhythmic interplay. So that flow does not get too out of hand and the ride too bumpy, the following tracks return to a more gradualist, meditative feel generally constructed around Eisenstadt's muffled drumming, Houle's patient melodicism, and a strikingly beautiful several-minute piano run by Hawkins. Some of this album, including the utterly infectious "Prayer," jauntily walks the tight and treacherous line between the mellifluous and the saccharine. Some, such as the titular "You Have Options," offer soft and sweeping meditations on simple themes. In addition to pieces composed by Hawkins, Houle, and Eisenstadt, this album includes three covers including essentialist and truly riveting interpretations of Steve Lacy's "Art" and Charles Ives's "Largo," as well as a measured, but grooving rendition of Andrew Hill's "Dusk."
I had heard each of these musicians in different configurations before I listened to You Have Options. That is why I was drawn to the album in the first place. Still, after playing the opening track, I was not sure that such a polished and superficially (and only superficially) conventional release could hold my attention for a full hour, let alone repeated listens. A few songs in, however, I realized my doubts were misplaced. As I should have anticipated, Houle, Hawkins, and Eisenstadt knew exactly what they were doing.
Comments and Feedback: