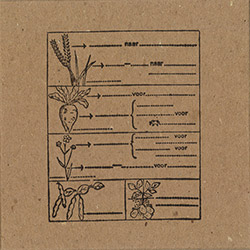 In a conceptual setting recalling the legendary "cracked everyday objects" microcosm of Andy Guhl and Norbert Möslang's Voice Crack (what a fantastic duo, by the way), Jin Sangtae and Tim Olive make the most of recycled pieces of quotidian technology. They highlight the substance of what usually remains unheard, and which may contain the germs of intuition of an invisible totality that is more relevant than expected. Sangtae connects cables to salvaged hard drives, bringing to (disorderly) life the barely perceptible interferences typical of computer-induced brainlessness. Olive — an erstwhile virtuoso of electrically enhanced one or two-stringed self-mades — now puts his magnetic pickups at work on "consumer/post consumer objects", without further detailing. Unleash your fantasies.
Listening to arrogant speakers lacking technical grounding inevitably makes me crave silence, in particular when inconsistent verbiage about "harmony" and "vibration" is spewed. Preposterously, this is why I find myself completely at ease — relaxed, mentally active and never distressed — with Sangtae and Olive's sound world, which is anything but silent, including the places where it really seems so. Still, through the use of kinetic contrast, overdriven circuitries, incisive frequencies and subsonic signals that fill an entire body with compressed energy, the three improvisations of Naar/Voor explore a grey area of acoustic recognition that might or might not lead to a state of quietness.
When one learns to study the evolution of a presumed disturbance rather than escaping from it — perhaps attracted by some nonsense of "contemplative" descent — chances are that the so-called "troubling" element will teach a thing or two to the student. With a correct procedure of ego removal, spots of near-perfection can be found within the compass of harsh racket and saturated droning. Sangtae and Olive are definitely looking to have fun in there, but the involuntary sternness conveyed by their systems elicits the peculiar figure of a geek monk. Someone used to long spells of muteness, yet also willing and able to investigate and reveal the significant nucleus of what too many humans classify as "deviant".
Comments and Feedback: