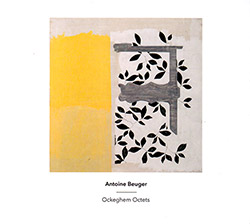 "Each page of the score contains two lines of four tones. The tones are all to be played long and softly. Four of the musicians play one line of tones, each in their own time, and the four others play the second line. This recording realises [sic] twenty-five of the fifty pages of the score."
For some reason this music puts me very much in mind of the plate spinner's act seen on television quite often during my childhood. A set of dinner plates would be set spinning on top of long thin dowels, while the audience awaited the inevitable porcelain crash. The difference is that here no crash will be forthcoming. The plates simply wind down or halt. It is in their spinning then that the interest lies.
The pages are interpreted by an ensemble consisting of: Ryoko Akama (melodica), Seamus Cater (concertina), Kate Halsall (harmonium), Sarah Hughes (e-bow zither), Ecka Mordecai (cello), Harriet Richardson (flute), Leo Svirsky (accordion) and Kathryn Williams (alto flute). Reedy chords hover while overtones swell and decay, and there are brief pauses between each page. The chords often move from consonant to dissonant (or vice versa), sometimes within a single page, sometimes with the addition of one instrument, and there are audible beats occasionally as very closely tuned notes mingle. For such a simple score there appears a wealth of detail available to the careful listener. Here's hoping that all fifty pages see realization.
Comments and Feedback: