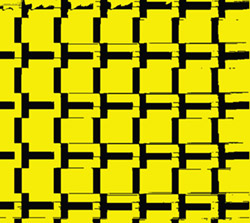 Featuring Norbert Möslang on cracked everyday-electronics, Ilia Belorukov on alto saxophone / electronics / laptop and Mikroton founder Kurt Liedwart with analog synthesizer / electronics / ppooll*, Sale_Interiora offers a wealth of sonic information garnered from the unique, big brains of this trio. As cacophonous as the mix could be (the performers are great at making a ruckus all on their own), the presentation is organic, dynamic and inviting in the way that destruction can be hypnotic, beautiful and awesome from a distance. Yes, "cacophony" should be added back into the description.
The first near-seventeen-minute work, "Giallo," starts low in the trenches with missiles going off in the distance. A subtle, muted thump loops under a great deal of static and feedback; this gradually exits from a wormhole (via electronics filtering) while whirring whooshes of synthetic howls swoop in. Bits of percussion and samples are thrown around until the aforementioned electrical storm fully escapes with a dog whistle pitch and shuts everything else up for breath-holding pauses. After resuming to original state, someone wildly attacks, scrapes and slices across an amplified acoustic object, these sounds bringing a bit of humanity to the war of machines. After a reluctant last wretch, everything except the pulse, now deeper and more melodic than percussive, peels off. Less overwhelming now, small musical gestures are flicked here and there, and we're joined by the shaky ghost of a radio station set on pop ballad. The trio continues to work this aesthetic, changing the tempo, shifting plug-in and pedal settings, so to speak, al niente.
Beginning in a more serene setting, "Nero" stretches time with languid transistor waves, sirens and skewed sonograms that surge, connect, push away and slow dive for octaves over the horizon. Punctuating distortion makers duet and argue across the stereo field, build to eruption and then fade behind flitting synthetic duck calls and hyperactive ticking glitch. As these disappear, tension mounts and the volume (both amount of things and volume nob) rises to a relatively punishing saturation; sudden goat bleats and pig snort samples make a mysterious visit, the work nears explosion, but smooths out into a raggedy sine wave and a few last blips.
This is noise music for listeners who demand more from artists who wear that label but offer "let me turn this on and sit back."
*ppooll is an audio and visual networking system created from Max/MSP and Jitter patches."
Comments and Feedback: