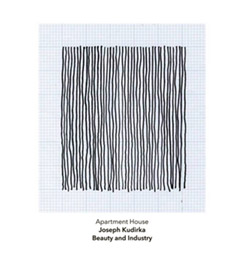 I have always enjoyed Another Timbre's practice of putting interviews with composers and/or performers on the page of each new release. These question and answer sessions are invaluable documents, placing the music and its creation in multiple and illuminating contexts. In the interview for this release, bassist and composer Joseph Kudirka emerges as a kind of troubadour of "experimental" music, traveling vast distances on both the physical and philosophical plains. Studying trans-geographically, his compositions are grounded in similarly diverse traditions springing from his work in orchestras and in smaller and more radical groups of varied instrumentation and intent. Kudirka's obvious interest in the elasticity of music and its creation is given practical voice on this disc, as many of the pieces are presented by the excellent ensemble Apartment House, in two or even three versions.
Take, for example, the title composition, presented in three versions of nearly identical timing. The sustained tones associated with Wandelweiser music are certainly a factor in all three renditions, but fluidity of timbre and attack ensure very different but equally immersive listening experiences, sustain ultimately being the only common factor. The two versions of "Tender" travel along somewhat similar lines, but there is a post-Webernian feel to the aphoristic structure that seems to generate more relative speed as one sound moves to the next.
Of the pieces offered in only one version, "21st Century Music" may be the most shocking, not because of any radical compositional method but because of the traditional harmonies that sound so naked as one morphs into the other. It doesn't seem possible that an A-minor chord can sound as shocking as it does here. Time itself seems to melt away, as there is something irresistibly Renaissance about the harmonies and the way they move and repeat, ignoring the tritons of course!
This is music remarkably free of dogma and yet willing to be beholden to a tradition if warranted by the pieces' construction. Kudirka makes the point that the pieces work best in good hands, which they certainly are; it would be difficult to imagine the music emerging with greater focus and attention to each detail than it does here. As with many discs on this excellent label, the recording is superb, letting each interval, overtone and articulation speak for itself. Flexibility of score and performance combine to make this an excellent addition to Another Timbre's large catalog of new chamber music.
Comments and Feedback: