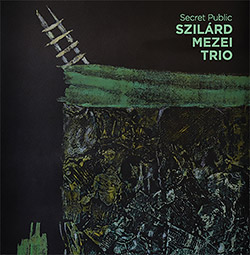 Escorted by loyal comrades Ervin Malina on double bass and István Csík on drums and percussion, violist Szilárd Mezei gives yet another demonstration of critical profundity in a work where earnest inspiration stays unhindered by technically advanced elaborations. A virtuoso as humble as the little knight from Vojvodina is currently pretty hard to find: endowed with a supernatural control of the arco, capable of eliciting thousands of diversely shaded harmonics, aware of the "intrinsic flow" at any moment. The democratic leader of variously populated ensembles still exudes the authority of an educated investigator of atmospheres, cultures and traditions, subsequently merged in unique sets of flexible rules.
Secret Public consists of two tracks lasting respectively 29 and 25 minutes. "Titkos Élet" begins with frantically bowed strings, Mezei and Malina looking for combinations of impulses, partials and particulars as Csík examines the subtlest nuances of his percussive arsenal with light brush touches. The tense feeling inevitably produces an escalation, broken by a collected drum solo followed by the trio's reaffirmation of the initial instability. However, things quiet down after a while, just like rain diminishing its intensity towards the end of a storm. A perceived uneasiness turns into veritable richness thanks to Mezei's atonal agility, the latter providing guidelines for a disciplined use of unusual intervals, both in the collective segments and during the solitary disquisitions (including Malina's). This is music that silently incites to think differently, growing stronger as the time elapses.
"Vitézek A Lerakóhelyen (Nincs Válasz)" — dedicated to Serbian writer Danilo Kiš — displays a mere fraction of the preceding agitation. In a large part it feeds on melodic variations over a lean pulse occasionally shaped as a fixed bass vamp. The lights are relatively dimmer here, but the group's dissonant poetry remains in absorbing evidence, notwithstanding brief upsurges of fervency delivering the composition from any trace of schematism. The finale, a fascinating rallentando, finds the performers scattering pitches and gentle noises with gradually decreasing frequency. Silence falls; the lingering scents are strong.
Comments and Feedback: