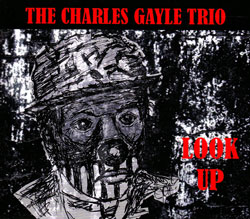 Fervent, fire and brimstone free jazz courtesy of Charles Gayle, drummer Michael Wimberly, and bassist Michael Bisio, recorded live in 1994. The sound is raw and intense — a revelation of energy and holy improvisation. The disc starts at 100% velocity with "Alpha" and barely eases up throughout. Screaming sax and drums restructure melody and time until stepping aside for a quick bass solo that segues into the aptly titled "Homage to Albert Ayler". Gayle pays his respects with wide, wobbling sax lines that closely mimic Ayler's soul-baring sax without sounding derivative.
An extended bass solo follows as Bisio channels mid sixties Jimmy Garrison with double stops and bowing that quickly morphs into more uncharted territory. Wimberly's solo comes next armed with percussion and vocalizing that keeps the listener guessing at the sound source. He evokes strange sonorities from his traps that sputter and wheeze alongside more traditional clatter. "I Remember Dolphy" eases in with Gayle's bass clarinet deftly canonizing the late master while adding his own signature multiphonics and slurs. It ends with a sullen, high register cry that slowly fades out in a most haunting and beautiful manner.
The acerbic religiosity of "In The Name of the Father" features an onslaught of mind-your-manners gospel rapping that would do the Last Poets proud. You may not agree with Mr. Gayle's politics, but you can't deny his conviction. It's a thrilling performance that ends with more crashing musical freedom and might just make a believer of you before it's over. Final track "The Book of Revelation" closes the disc in much the same manner as it began, with scathing, soulful free jazz deeply rooted in the Blues and the church. Words simply don't do this recording justice...it's unabashed ferocity must be heard to be believed. Very highly recommended.
Comments and Feedback: