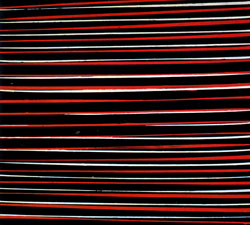 In his Twentieth-Century Music: An Introduction (a book every fourteen year old kid who independently expresses interest in music should absorb), author Eric Salzman describes Charles Ives' musical stamp as something that "had to find its starting points in some kind of expression that was at once personal, free and spontaneous, close to 'natural' expression...he wanted a speaking kind of music, a music that could be jotted down to convey fresh impressions and thoughts..." Being that Ives hoped for this in the late 19th century, his frustration with getting these ideas on paper (he was often vague, at times allowing an aleatoric slant), blending them with his penchant for tonality and asking performers who probably lacked even Debussy as a reference point should have deterred him with frustration; judging by his output, he did just fine.
As years have passed the evolution of less — if any — notes on a page with a supplement of inventive improvisation and genre-bending is something to be reckoned with. However, though the "fresh impressions" approach is precedent, much of this music still eventually exhibits ties to Classical, Jazz and / or 20th Century techniques. This can be fine, but hearing a primal communication is refreshing.
That brings us to A Floating World and a few things it does not do: Nusch Werchowska 's fidgety piano preparations and nail scrapes will not suddenly turn into lightning-fast runs up and down the keyboard; saxophonist Heddy Boubaker will not jump from subtle whistle sounds that, performed at a distance from his reed, barely register to a blazing hard bop sprawl; Mathias Pontévia, supplied with a horizontal drum kit and junk metals, will not push aside his myriad ticks, mutes, thumps and arrhythmic surveys in favor of a Tony Williams bombast. Instead, the album is an arrangement of sonics and a frolic with time, this acoustic trio working at both the micro and macro levels with building block sound modulation parameters (attack, delay, sustain, release). How fast and for how long does Pontévia have to press before a drum head vibrates uncontrollably against a cymbal pushed with a drum stick? How much variation is needed before the listener tires? Werchowska drops chains onto the soundboard, pinches and pulls on strings and rocks her piano until it creaks while Boubaker sputters and purposefully strains without producing pitch. Is this enough? Once you get past the idea that harmonic union and melodies are not going to pop out (the latter occasionally appear, but they serve more as rhythmic devices and red herrings when spread out over 75 minutes), and the extended techniques are not the tension before the release, the disc is hypnotic and utterly engrossing; move past that and relish in three musicians at work on a dialect of the improvisation language.
Comments and Feedback: