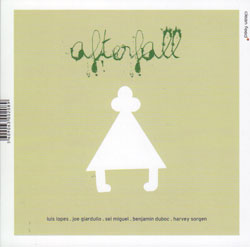 Delivered on the Portuguese label, Cleanfeed, this is improvised music that is intimate and inviting. There is no cool pretense about it, nor is there an excessively demanding kind of approach, where the listener is coerced into paying attention. This is music that you want to listen to, as if to intriguing whispers you want to understand the meaning of.
The quiet evolution of the set of seven pieces is the result of the blending of four individual voices in coherent conversation. Sei Migeul's muted pocket trumpet recalls Don Cherry's tight and quick phrasing and Miles' winnowing melodic plateaus, and while the combination of trumpet and sax can be one of the most hackneyed duos with predictable results, here Joe Giardullo's robust tenor and soprano sounds dramatically offset Miguel's quieter voice, and these two blend in mercurial ways that make for a great dressing on the salad of rhythms and tasteful timbral ingredients drummer Harvey Sorgen and bassist Benjamin Duboc lay down. The equally tasteful and creative guitar textures provided by Luis Lopes are as understated as could be — it's not an easy thing for guitarists to hold back like he does, but it helps the music breathe.
The piece with the most variation in timbre is "American Open Road with a Frog" where the group gets most adventurous. Further exponents of the contrasts of this album are the bookends to the album "The Shut up goddess" and "Return of the Shut up goddess," a quiet opening and a rather roiled current of ideas that funnel the music to a close.
Comments and Feedback: