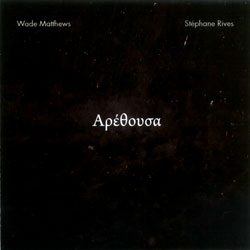 Just where it is the sounds on Wade Matthews and Stéphane Rives's Arethusa reside is never quite clear. It's a nomadic album, wandering, homeless maybe, elusive to be sure. From the first tone, which is either Rives' soprano sax or Matthews's electronics or a combination of both, there's a profound feeling of not being in on the proceedings. The tone starts to stutter, then doubles, then circles and slurs and at some point some soft whirs and purrs came in unnoticed.
Key to Arethusa as a listening experience, in other words, is that it goes by unnoticed, but not unheard. The record is very present in the ears, but it's cryptic enough that the listener has to keep on task, for it's not a sonic environment that should be dismissed too quickly. And in that regard, for its first half hour or so, it's fascinating. The soft intoning of the opening nine-minute track gives way quite easily to a more percussive second track (all are untitled), seemingly built from fingered percussion on the sax but, again, it's unclear. Matthews is credited with "software synthesis & manipulated field recordings," which means, or suggests anyway, that the sounds could literally have emerged from anywhere in the natural or cyber world.
With the third track (at 17 minutes the longest of the four) — which is dominated by breathy exhalations, gongs and birds, all seemingly lost in a cloud — the recording slowly starts to gain a foothold, a sense of place if still murky, only to give way to a persistent but sputtering buzzing. The overriding sense of displacement could be unnerving here, but it doesn't have to be. At least not until the final track. The album resolves itself with a 12-minute piece that weaves prerecorded voices into the mix, spoken segments that seem to be have been arbitrarily edited so that not only is following the conversation (is it a conversation?) impossible, but even deciphering the language is difficult. Bits of English ultimately slip through, but catching enough of a phrase to hang on to is still difficult. Sound without meaning can usually, or sometimes anyway, be absorbed without trouble. But spoken language robbed of syntax is worrisome. Why is this voice whispering? And is it saying something we need to know? It creates a nice element of danger, and a captivating final act.
Comments and Feedback: