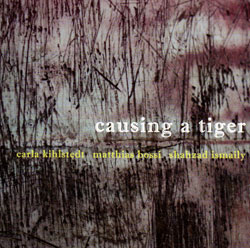 From the opening two-minute track on the gently hazy rollercoaster of Causing a Tiger's debut album, it's clear that something new is again afoot from the innovative members of this trio. Sung by Carla Kihstedt, her voice filtered and remote, "No Funeral at All" seems a sort of lost folk song, a soft remorse somewhere between Irish reel and Appalachian ballad. It's a brief and blurry thing, and like the rest of the record it's hard to peg.
Outside Sleepytime Gorilla Museum, Kihlstedt's work can be awfully musicky. Her work is that of a violin prodigy with perfect pitch, and as distinctive a composer as she is, there's a formalism about her work in her trio Two Foot Yard and as a member of Tin Hat. So it's nice here to hear her in a context that gets a little murkier, the footing less solid. In that sense, it's somewhat reminiscent of The Compass, Log and Lead (Intakt, 2006), an excellent outing with Fred Frith and Stevie Wishart. (Kihlstedt seems to embrace the trio.)
Joining her in this new trio are her Two Foot Yard mate Shahzad Ismaily (synthesizers, pump organ, electric guitar, Armenian double flute) and Sleepytime drummer Matthias Bossi (heard here on piano and melodica along with a variety of percussion instruments). Kihlstedt plays violin and charango and sings her own lyrics, and just as definitively supplies the field recordings which give the album a lost and roaming feeling. All three also contribute spoken word, reading short and evocatively pulpy story fragments written by Jenni Quilter. Also en route are cameos by Fred Frith, Myles Boisen and Michael Mellender, as well as some geese and dogs; an elegiac piano/violin duet; and a rough and tumble guitar/drum passage.
There is, then, a load of elements at play here, and no easy way to characterize how they all come together, but indeed they do. What might be the greatest accomplishment here is that they've managed to put it all together and make it seem unbusy. Good show.
Comments and Feedback: