Chris Cutler
Chris Cutler is the cofounder of ReR Records and the drummer for such bands as Henry Cow, News from Babel, Art Bears, EC Nudes, etc. A RIO artist, an inventor in the audible, conceptual, textual and visual arts, he has collaborated on numerous projects including releases with Lutz Glandien, Biota, Fred Frith, Peter Blegvad, etc. His label and its affiliates release records "to bring into the UK a whole range of records by groups & musicians whom we thought excellent & yet who were completely unknown here. Then - as now - we were only concerned with the quality of the music; & epiphenomenally with supporting independents- for many of the most interesting groups could only make their work available by pressing & manufacturing themselves."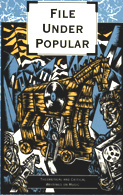 Cutler is also an author and artist, and his book File Under Popular (Theoretical and Critcal Writings on Music) (1985/93 Autonomedia, Brooklyn, NY) establishes Cutler as a critical thinker on the culture and logistics of music and the music industry. Many articles by Cutler can be found in the ReR Quarterly Magazines, which is also a good way to become familiar with his meticulous handwriting and excellent pen and ink drawings.
Incidentally, no, he is not Ivor's son... I had previously listed here that he was, a consistent legend circulating Usenet, but "from the horse's mouth" (Chris), no, he is not Ivor's son.
---

	TRUTH
	

	Then I went walking
	& I saw
	long queues -
	but little
	food
	
	then I got
	talking
	but the 
	soldiers
	would not
	let me
	stay

	then I got
	reading
	& I learned
	PROSPERITY
	had come - 
	& this was
	EDEN

	worms appeared
	- & TRUTH
	brushed them
	away



from the insert to Art Bears _The World as It Is Today_

Chris Cutler (British Harry Partch Society, Honorary Society Induction)
Chris Cutler Interview at Perfect Sound Forever

---
Related:

Chris Cutler on the tape culture (Cassette Mythos site).